Anti Aging Hair Care
Clean, Condition and Control!
Beautiful hair is so sensual. Clean, shiny, lustrous hair has the power to make you feel absolutely fabulous. Somehow it provides us with the confidence and stamina to effectively manage the demands of the day.

It is no secret that time changes your hair. The challenge is to investigate the cause of those changes and adjust your lifestyle to remedy what needs to be done to retrieve your great hair.
Some conditions that you may notice when examining your hair, are changes in texture, thinning, lack of shine and diminished volume may require that you visit your health care provider for advice on how to remedy these changes.

Your skin and hair are reliable indicators of how healthy you are. If you are giving your skin and hair great care with healthy products and you are still not happy with the results do not hesitate to follow up with your physician.

Let's start anti aging your hair with great care using pure, clean hair products.

Providing great care for your hair is basically a 2 to 4 step program. The number of steps depends on the condition of your hair.
shampoo
condition
treat
style

What is hair?
Your hair grows from follicles under the skin of your scalp.

The part of the hair inside the follicle (below the skin's surface) is known
as the hair root, while the portion you see protruding from your head is the mature hair shaft.

This mature hair shaft, fiber or hair strand consists of 3 layers, the cuticle, cortex and the medulla.

The condition of the cuticle affects the appearance of your hair. The scales on a healthy cuticle lie flat along the hair strand, reflecting light and permitting movement. The scales on a damaged cuticle are lifted and ragged, hampering the reflection of light and movement.
This may be the cause of your hair looking dull and lifeless.

How do I care for my hair?


Just as you took a moment to determine you skin type before deciding on the anti aging skin care system you needed to follow, please take another moment and decide on the condition and shape and texture of your hair.
Make a note of your decision. For example:
Condition: Normal to Dry

Shape: Curly
Texture: Medium
This information helps when it comes time to choose the anti aging hair care system that is specifically designed for your hair.
The following suggestions will help you to decide on:

(a) condition of your hair
normal to dry
normal to oily
oily with scalp problems

(b) shape of your hair
(c) texture of your hair
The certified organic ingredients in the shampoo and special treatments are selected and prepared to cater to the specific conditions of your hair.

How can I begin to anti age my hair?
Free of all impurities and toxic synthetics, your shampoo and conditioner are the starting point when anti aging your hair.
There is a specific shampoo for each hair condition.

Please check your notes regarding the condition of your hair and select the appropriate shampoo.

How do I shampoo my hair?
Believe it or not there is a right and wrong way to shampoo your hair.
Each strand of your hair is very delicate. When it is wet your hair is
extremely fragile.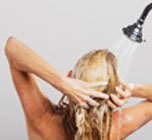 When shampooing your hair you are really shampooing your scalp and letting the shampoo flow over the hair when rinsing off the suds. This eliminates the rubbing and scrubbing that is often associated with washing the hair.
When drying your hair, simply wrap your hair in a towel and press.
Remember your hair is fragile when wet.

How do I apply conditioner to my hair?
If your hair is long, lift your hair up from your neck and apply conditioner
from the nape of your neck up to and including the ends of the hair shaft. With both hands smooth conditioner from the hairline at your face back through the length of your hair to the ends.

If your hair is shorter, start to apply the conditioner at the nape of your neck and work through the hair shaft to the ends of the strands. Similar to long hair smooth conditioner from the hairline at your face back through your hair ensuring your have conditioned all of the shaft ends.
Cover your hair with a shower cap for a few minutes while your finish your shower or bath.
Before your step out of your shower or bath remove the cap and rinse your hair thoroughly.
Squeeze the excess water out of your hair with your two hands
Wrap your hair with a towel to remove the excess moisture
How can I get a smooth, shiny hair style?

Step 1

Styling Gel--

Using a hair styling gel that conditions, protects and nourishes your
hair is a smart decision. It moisturizes dry and damaged ends and
that's a bonus.

Apply the hair styling gel after your shampooing and conditioning steps.
Squeeze a dollop into the cup of your hand.

Experiment with the amount your need.

My hair is fairly short and I use just enough to lightly coat my hair--
about 11/2 capfuls.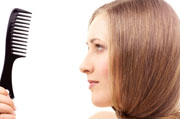 Work styling gel through your hair from the root to the end of each strand. A large toothed comb is often helpful to ensure complete coverage.
Step 2

Blow Drying your hair--
Since heated styling tools are known to damage your hair, it is important
to choose and use the best Hair Dryer available on the market.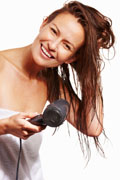 So what is the best Hair Dryer available?
Once again the shape of your hair (curly, wavy or straight) should be considered. If your hair is curly you will want to use a diffuser, whereas if your hair is straight you need a concentrator

Some of the features to look for in choosing the best Hair Dryer include:
cold shot settings - allows alternate temperatures

1700 watts and above - dries hair quickly
dryers that use negatively charged ions
Electromagnetic field (EMF) levels of 0.5mg and below for safety and greener usage
accessories
Step 3
Styling Your Hair--

Styling your hair with styling gel protects and nourishes the hair with rose hip oil and organic herbs treats both your hair and scalp--

Long Hair- Blow Dry

.Pile and clip clean hair up on top of your head
.Remove clip and drop a thin section of hair at the nape of your neck
.Thoroughly blow dry this section while shaping with a round brush
.Continue to drop, dry and shape your hair until finished.

Shorter Hair - Blow Dry

.Clip hair away from the section you want to dry and style
.Blow dry and style the section you have left free
.Move to the next section
.Continue to dry and style each section until finished.

You will find that this medium hold styling gel does an amazing job. Hair that is styled with a Blow Dryer is smooth and has great movement.

Air Drying your hair--

Should you prefer to air dry you hair, which I prefer, simply comb--with a comb designed to de-tangle wet/damp hair-- the styling gel through your hair.

Style and let it dry naturally.

Status--Where your are in the program

You now know how to provide your hair with the best products and care to promote a healthy scalp and lustrous hair. You are on your way to a healthy, lustrous head of hair that is enviable.

You have learned how to:
analyze your hair
select non toxic hair care products
make your shower water safer
apply products that promote a healthy scalp and shiny hair

select the best hair dryer for your hair

Next Steps

Sometimes you need a little more information about your hair care, click here and go to the second session of anti aging hair care.
In this session you will discover how to:
control an oily/problem scalp
repair dry, brittle ends
find a flattering hairstyle
survive a consultation with a hairstylist

Anti Aging Home|Legal Disclaimer|Privacy Policy|Contact Us

Copyright © 2010-2013, Harwils Limited, All Rights Reserved