Anti Aging Hand Care
Your Wish is Their Command!
Hands are unique!
They are the main organ of our fifth sense--the sense of touch.

There is an amazing connection between our brain and our hands. Your hands perform the function of sight in darkness; to the eye with reduced vision they enable the reading of words, just by touch

Your hands reveal much about you – your character, lifestyle, your personality and maybe your age. They are part of your communications system; enabling the emphasis of emotions and ideas through gestures.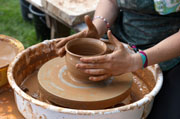 We tend to forget how hard our hands work for us, until we notice that they are dry, chapped and sore. Just like the skin on your face and body, your hands need and deserve regular anti aging hand care and protection.
The objectives when learning to provide anti aging care for your hands are:
develop a routine to cleanse and exfoliate your hands
protect and nourish your hands
care for your nails
Why do my hands age?
You use your hands to comfort, create and communicate and yet they are very often neglected.

Aging often brings the realization that the skin on your hands, like the skin on your face is changing. Your skin is becoming thinner with less elasticity. The thinning of the fatty layer makes the skin on your hands less smooth and less firm.

When you are forty plus, the oil glands in the skin of your hands reduces making them much dryer and inclined to be crinkly.

How can I provide my hands with anti aging care?

Step 1 - Cleanse
Washing your hands is an absolute must in order to maintain good health. You touch so many germ-laden items during the day.
For example, grocery cart handles, elevator buttons, door handles, anything you touch in public transit and of course money, to name just a very few of the contacts you make regularly.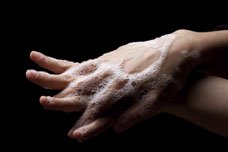 There are 6 steps to washing your hands.
Place your hands under warm, running water and apply soap
Rub our hands together to cover your entire hand and wrist with soap suds.
Give special attention to the backs of your hands, between your fingers, around your finger nails and your entire thumb.
Rinse your hands with the fingers and thumb pointing downward, swishing the germs down the drain.
Dry your hands well, with a clean towel or a disposable one.
Turn off the faucet with the towel
This entire process should only take 15 - 20 seconds

When you wash your hands as often as you do, using a hand soap that contains chemicals and detergents often contributes to the rough, irritated discomfort you feel.
Dry, cracked or chapped hands are not only uncomfortable but more susceptible to infection.

Provide anti aging hand care by using Certified Organic Hand Soap that contains purified and cleansing plant oils. Help your hands to regain their softness and firmness.

Use a true soap that is chemical and detergent free.

Step 2 - Exfoliate
When the skin tone on the backs of your hands looks blotchy, it is caused by a build up of skin cells.

Regular, gentle exfoliation of your hands removes the build up of those old cells and helps to even the skin tone and leave your hands feeling soft and smooth.

When you are exfoliating your body during a shower or bath, gently glide the Certified Organic Cleansing Bar, in the natural sisal bag, over the back and front of your hands. Take the extra moment to go around each finger and your thumbs before continuing up your arms towards your heart.

Your may feel a light tingle on your skin. Exfoliating your hands and body stimulates the circulation.

When you step out of your shower or bath and have patted your skin dry, take a moment and with your towel, push back the cuticles on both hands.

Step 3 - Moisturize
Nourishing hand cream like your body moisturizer is intended to protect, nourish and revitalize your skin.

You learned earlier how to keep your skin protected from loss of moisture by applying a body cream, after a shower or bath.

Applying Certified Organic Hand Cream immediately after you wash your hands protects the skin on your hands from loss of moisture.
Usually your hands are subjected to considerably more harmful contacts than your body. An ultra-rich, nourishing hand cream with natural antioxidants will provide the extra protection your hands need.

Smooth your hand cream between your fingers, around your nails, over the backs of your hands and thumbs.

Loading on the moisturizer and pulling on soft cotton gloves, to wear overnight, is the ultimate treatment for hands badly in need of some tender loving care.

Step 4 - Protect with sun screen

Unless you are out in the cold weather and wearing gloves, you hands are generally unprotected from the elements. Exposure to the elements and the free radicals discussed earlier also contribute to the aging of your hands.

Remember, the sun is one of those 7 cell damaging culprits.

Although using sunscreen has always been the answer to avoiding overexposure to the sun, it is a good idea to only smooth on the purest and cleanest sunscreen available.

You have probably read about some of the chemicals used in commercial sunscreen and the serious problems that they may cause.

A Certified Organic Outdoor Balm with natural minerals that reflect damaging ultraviolet radiation, keeps your skin supple and protected. Since it is water free it does not wash off. How cool is that?
How do I use this outdoor balm?
Twenty minutes before exposure to sunlight--
apply balm generously to exposed skin
reapply every 2 hours for continued protection
Tuck a tube of Certified Organic Balm in your handbag, golf bag, pocket or wherever, just always have it handy. Smooth it on your hands frequently.

Step 5 - Protect with gloves
Do you know that your finger nails are very absorbent and soak up a large percentage of their weight when constantly placed in water. This causes them to become weak and brittle.

Anti Aging Hand Care includes protecting your hands and nails from damage that can result from:
gardening
cleaning
decorating
lifting

In fact, always wear gloves to protect your hands from anything that even remotely looks like it will stress, strain, or harm your hands in anyway.

What gloves should I use?

There are 4 different types of gloves that work very well depending on the chore.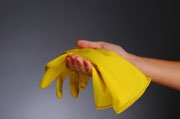 Rubber gloves for heavy duty cleaning.
Nitrile gloves for gardening.
Latex free FDA approved disposable gloves for light duty cleaning.
Leather work gloves for working with anything dry or rough.

Anti Aging Secret

Cuts, scrapes, bites and chapped skin are sometimes inevitable, even when you and yours are careful. Smooth a protective Certified Organic Barrier Balm on those minor skin irritations to soothe and calm your skin. 
It also works great on your babies and grandbabies!

Status--Where you are in the program

In this session you discovered how to provide anti aging care and protection to your hands.
Always be conscious of the condition of your hands and nails. Provide the nourishment and care they need to remain firm, soft and ageless.
You have now learned how to:
cleanse, exfoliate and moisturize your hands
protect your hands from sunburn, chemicals and injury
Next Steps

Giving yourself a manicure is usually the most efficient way of "doing your nails". Going to a salon to be pampered by a manicurist is a luxury that time does not always permit

In the next session of the Anti Aging Forty Plus Guide you can learn how to:
give yourself a manicure
choose a nail color
decide on artificial nails

Anti Aging Home|Legal Disclaimer|Privacy Policy|Contact Us

Copyright © 2010-2013, Harwils Limited, All Rights Reserved