Anti Aging Whole Foods
Healthy, Nutritional Choices

!

Nutrient-dense foods are an integral part of enjoying optimal health.
You may be thinking that you will need an abundance of time, that you do not have, to research and prepare nutritionally balanced meals for you and your family.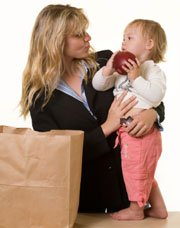 Menu Planning, grocery shopping and preparing healthy nutritious meals take on a re-newed incentive when you know that you and your family are eating the best anti aging whole foods available.

The objective of the Anti Aging Whole Foods session is to save you time and energy by providing researched, easily accessible information assisting with your selection and preparation of foods that are unprocessed and nutrient dense.
The Anti Aging Forty Plus Guide does the work for you.
You will learn about:
whole foods
conventional foods

certified organic foods
The healthy results of eating only the best anti aging whole foods are stamina, energy and mental agility.

Make smart choices and discover how to select the most nutrient-dense anti aging whole foods that contain the least amount of calories.

What are whole foods?
Anti Aging Whole Foods grow in the farmer's fields, your garden and local orchards. They are freshly picked with none of their nutrients removed or altered. Anti Aging Whole foods do not contain synthetic, artificial chemicals, preservatives or added nutrients.

So this begs the question, "Are the fruits, dark green and yellow/orange vegetables, whole grain seeds, legumes and nuts that are available in my supermarket considered whole foods?"

The quick answer is "Yes, they certainly are." However, (there always seems to be a however) chemical insecticides, herbicides and fertilizers are often added to these conventional foods. They may be added to the--

trees and plants
foods produced by those trees and plants
soil during the growing process.
Ingesting even trace amounts over a period of time is an health concern.

The following are some of the conventional foods that seem to absorb the greatest amount of chemicals.

1. Apples
2. Blueberries
3. Bell peppers
4. Celery
5. Grapes
6. Kale

  7. Lettuce
  8. Nectarines
  9. Peaches
10. Potatoes
11. Spinach
12. Strawberries

When shopping for the above mentioned list of foods, select certified organic or organic to ensure the purest quality.

What does "organic" mean?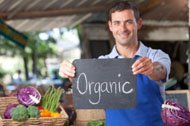 The USDA National Organic Program (NOP) defines organic as follows:

Organic food is produced by farmers who emphasize the use of renewable resources and the conservation of soil and water to enhance environmental quality for future generations.

Organic meat, poultry, eggs, and dairy products come from animals that are given no antibiotics or growth hormones.

Organic food is produced without using most conventional pesticides; fertilizers made with synthetic ingredients or sewage sludge; bioengineering; or ionizing radiation.

Before a product can be labeled "organic," a Government-approved certifier inspects the farm where the food is grown to make sure the farmer is following all the rules necessary to meet USDA organic standards.

Companies that handle or process organic food before it gets to your local supermarket or restaurant must be certified, too.
Organic whole foods contribute to the health of you, your family and the sustainment of our planet.

How do certified organic food and organic food differ?

Labeling of anti aging whole foods is confusing to say the least.

Let's look at the meaning of those labels. Thankfully, there is a standard definition that has not been corrupted by interpretation.

The USDA has four specific labeling criteria for organic products. When the label reads--

100% Organic... made with 100% organic ingredients
Organic...made with at least 95% organic ingredients
Made with Organic ingredients...made with a minimum of 70% organic ingredients. There are strict regulations on the remaining 30%. Genetically modified organisms (GMOs) are not allowed.
When a product contains less than 70% organic ingredients, the organic ingredients may be listed on the side panel of the package. Organic claims cannot be listed on the front of the package.

The Certified Organic Seal is specific to the location that it is intended to represent as an assurance of the quality and integrity of the organic product. For example United States and Australia display seals that are universally identifiable.
Status--Where you are in the program

Now you know how to make smart choices when selecting whole foods for you and your family. You understand the labeling criteria for organic foods. You have also learned about the conventional foods that are most likely to absorb the greatest amount of chemicals.

Next Steps

Now let's move along and apply all the information you have learned in the Nutrition Section of the Anti Aging Forty Plus Guide. Discover how to put it all together into a lifelong anti aging food plan.

Anti Aging Home|Legal Disclaimer|Privacy Policy|Contact Us

Copyright © 2010-2013, Harwils Limited, All Rights Reserved