Anti Aging Nail Care
Finish With Style!
Manicuring and painting your nails puts the finishing touches on your anti aging nail care.

Treating yourself to a professional manicure can be scheduled into most every ones "me time". However, there are many times when you may prefer to do it yourself.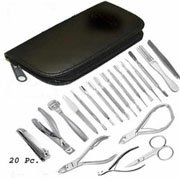 A word to the wise.
Protect yourself against a possible infection. If you do schedule a professional manicure, I strongly suggest that you invest in your own pedicure/manicure kit and take it with you to your appointment.
What do I need to give myself a manicure?
Your first glance at the list of items may be inclined to make you think that this anti aging nail care it is just not worth the effort. However, in order to save time let's bundle them into 2 paks where everything you need is ready whenever your are.
Pak #1

cotton balls or pads
nail clipper
emery board

buffing block
hand towel or paper towel
orange stick
soft, clean cloth


Pak #2

nail polish remover
exfoliant scrub
moisturizing cream
base coat
nail polish
top coat
Now the only thing you need to add is a bowl of warm, soapy water and you are all ready to anti age your nails.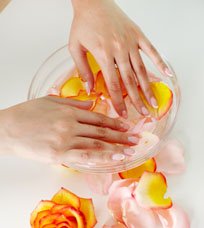 Preparing your nails

Your nails are subjected to any number of activities during the day.
They often become chipped, split and broken.
Anti aging nail care is about contributing to your ageless image by having hands that support that image.
A manicure makes your nails feel good and look good.

Remove any nail polish with a cotton pad soaked with polish remover.
Trim your finger nails into the shape you prefer with the nail clipper. Following the shape of your nail bed is perhaps the easiest shape to maintain, however square-shaped nails are also very popular.
Trim away any dry, dead skin surrounding your nail, however, never ever cut your cuticle.
File your nails in one direction only, filing back and forth weakens the nail and may cause your nails to split and crack.
Use your nail bed as a guide and avoid filing into the curve of your nail, below the nail bed, as this may weaken your nails.
Use the buffing block to buff-out any ridges on the top of your nails and any rough edges on the sides.

Pampering your hands

If you exfoliate your hands once or twice a week, and diligently push back your cuticles after your shower or bath, it may not be necessary to repeat those activities when you are giving yourself a manicure.
Slip your fingers into that bowl of warm, soapy water to soften the cuticles.
Soak for a few minutes, usually 4 or 5 minutes is enough.
Pat your hands dry with a hand towel or paper towel.
Apply moisturizer to your nails and cuticles, thoroughly massaging around the nail beds.

Remove all the moisturizer from your nails with a clean cloth.
You are now ready to color your nails.
Coloring your nails

Nail color makes a fashion statement and usually influences your choice of color. Another influencing factor is your skin tone. The most flattering nail color is based on your skin tone.
Warm skin tones look best in nail colors with a yellow base such as orange, melon, a red orange, gold, and chocolate.
Cool skin tones are complimented with colors that have a blue base, such as mauve, a blue red, silver and black.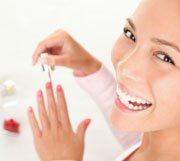 Working in an ultra conservative business office usually means wearing a more subtle color ranging from clear to a soft pink or mauve.
Quite acceptable at a more relaxed business setting are the stronger colors such as the reds, metallics and airbrushed designs on your nails.
Socially and on your own time there are no holds barred, emphasize your creativity with any color. 
Choosing your Nail Care System

Nourish your cuticles, build strong nails and establish flawless color with
non-toxic and safe nail care.

I regularly paint my nails and wanted to use only non-toxic polish.  My personal choice is the Acquarella Nail Polish and Conditioner system which contains:

No Dibutyl Phthalate (DBP) or other phthalates
No Formaldehyde or Formaldehyde like derivatives
No Toluene, Ketones or petrochemical solvents
No Polyurethanes or Polyurethane film formers
No Parabens or Camphor
No Gluten or wheat by-products
No aromatic hydrocarbons

How cool is that!

Although this is my choice you may prefer other brands. Click here to discover valuable information about conventional nail polish. Scroll down the page to find the link to a list of 12 other non-toxic choices.
Anti Aging Secret
Using a non toxic, water based nail polish is a bit different from using a conventional nail polish. Click here to discover the procedures for using Acquarella Nail Polish.

Applying artificial nails
Deciding to have a manicurist apply artificial nails is usually generated by your unhappiness with your real finger nails. Either they refuse to grow, or are soft and break easily and are just driving you to distraction.

I have seen hands with artificial nails that were amazing. I could not tell that they were not real. On the flip side I have seen some hands with artificial nails that were immediately identifiable as being artificial.

Before you make that decision may I suggest that you do your due diligence and research all that is involved.

The bird's eye view for your consideration

The Good

When you are truly unhappy with how your hands look perhaps artificial nails will help.

Do your research--chat and listen to other people who have had it done.
Do not hesitate to book a consultation.

During your consultation discuss with the manicurist the type that would be most appropriate for your hands.
There are 5 types of artificial nails

Wraps - Do the least amount of damage
Acrylics - A plastic paste is applied to your nail, where it hardens.
Porcelain - A plastic paste is applied to your nails. It contains a ground glass-like material.
Gels - Layers of resin are applied to your nails
Tips - May cover all of your nail or just halfway up to the tip.

Taking these actions should help you make a safe and rewarding decision by:
patronizing a tried and true, top salon
listing the tools you need to bring to your appointment
deciding on the type of artificial nails


The Bad
The chemicals, glues and sealants used to apply artificial nails usually lack the pure and clean ingredients that contribute to anti aging nail care.

The outcome of applying those products to your nails may:
leave them dry and cracked
cause fungal infections
disfigure your real nails preventing you from future exposure

Trust your instincts!

Is this process really for you? Do you think you could have lovely, ageless hands by following the processes outlined in the Anti Aging Nail Care session?
I am thinking you can!

Status--Where you are in the program

You often hear that nothing shows your age like your hands. You now know how to care and protect them so that information is not quite so readily available.
Keep your hands looking lovely, it is worth the effort.

Next Steps

Let's move forward and learn how to care for that other pair of miracle workers, your feet.
In the next session of the Anti Aging Guide you can discover how to:
provide healthy foot care

pamper and protect your feet

color your toe nails

Anti Aging Home|Legal Disclaimer|Privacy Policy|Contact Us

Copyright © 2010-2013, Harwils Limited, All Rights Reserved