Anti Aging Healthy Eating

...

For Optimal Health
From the Inside Out!

Anti Aging Healthy eating for the rest of your life is the next logical step when you have completed the 5 phases of Dr. Simeons Weight Loss Protocol.
The most supportive menu preparation guidelines, are written by authors who have a sound understanding of the HCG Weight Loss Program. These 4 books are suggested to help make your menu planning effortless and accurate.

On completion of phase 4 and phase 5 of Dr. Simeons Weight Loss Protocol , you discovered and noted (you did remember to make notes, didn't you?) the foods that contribute to weight gain, discomfort or a reduction of energy and mental agility, whenever you include them in your diet.
When you are preparing a lifetime of anti aging healthy eating , this knowledge is extremely valuable. This is the information that assists with your development of a whole food plan specifically for you.

How do I develop an anti aging healthy eating food plan?
Living and feeling fantastic is your goal!
You have come too far to tolerate or desire the inclusion of any food that deters you from that goal.

There are 5 simple steps to healthy eating.

Step 1 - Omit certain foods

List the foods that you have found to be less than beneficial to you. You do not want to include them in your food plan.

Step 2 - Stay Committed

Once you have met and set your weight goal, your decision to stay the course with anti aging healthy eating is fundamental.

Sometimes this is a turning point. Particularly, if you are in phase 5 of Dr. Simeons Pounds and Inches and want to continue to eat good healthy food but you are not sure how to proceed. Your question may be "Ok, now where do I find information and recipes that will continue to provide healthy eating so I can move forward?"

You may feel that it is just simpler and easier to return to your old eating habits. Believe me, it isn't!

You may also think, like I did, that you just do not have enough time to do the research, shopping and menu preparation.
To top it all off, you may also question; "how do I really know if I am preparing the best anti aging food for me and my family?"

Again you have come too far to turn back now.
You met your weight loss goal.
You locked in your weight.
Your success shows!
Do not be tempted to turn back!
Turn to an incredible resource regarding anti aging healthy eating.

Step 3 - World's Healthiest Foods

You can find a wealth of information relative to whole foods and healthy eating.
The author, George Mateljan, has gone above and beyond all expectations to deliver a product that provides information specific to selecting, preparing and enjoying the world's healthiest foods
Everything is done for you!
You will discover everything you need to begin your lifelong journey of easily preparing nutritious, tasty food that is focused on your optimal health.

shopping lists
food storage
food preparation
nutrient density
allergies and food sensitivities

healing foods

This is a simple, easy and successful way to continue with your lifelong goal to anti aging healthy eating.
Step 4 - Refer to Resources

Do take advantage of the other resources you have accumulated to personalize your anti aging food plan.
HCG Maintenance Recipes - to quickly get back on track

Pocket Guide to the HCG Protocol - breakdown of the macro-nutrients
Glycemic Index - impact of carbs on your blood sugar

Step 5 - Control Portion Size
One of the most important actions you can take to ensure that you maintain the weight you have "locked in" is Portion Control.

Although Dr. Simeons Pounds and Inches does reset the hypothalamus gland from an abnormal state of low metabolism and constant hunger to the normal state, and you eat when you are hungry and no longer experience those crazy indulgences, it is wise to establish healthy eating habits and control the amount of food you put in your mouth.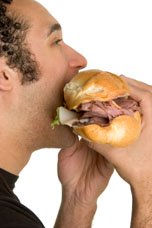 You are the master of what food and how much food you consume!
Your optimal health depends on controlling the quantity and quality in your anti aging food plan.
What portion size is right for me?

Portion control is directly related to weight control!

During my research I found quite a discrepancy between many of the nutritional experts regarding the correct portion size.
It seems that a reasonable solution is to assign one-quarter of your plate to each of the following:

fruits
vegetables
whole grains
protein

A great way to begin creating your healthy eating food plan, is to follow the 4 week Feeling Great Menu of The World's Healthiest Foods.
These recipes provide ingredients, directions and number of servings. An incredible addition is the information in the Nutritional Profile and Recipe Rating Chart that are presented with each whole food.

Anti Aging Secret

Over indulgence on special occasions or just because you want a special treat is a good thing.
You look beautiful, feel amazing so enjoy that treat----occasionally!

Status--Where you are in the Program
Congratulations!

This section of the Anti Aging Guide is information dense and you completed it.
You have learned how to develop an anti aging healthy eating food plan.
You now know how to take the information that you recorded during phase 4 and 5 of Dr. Simeons Pounds and Inches and apply it to your lifelong food plan.
To assist you with your shopping, menu planning and preparation of your food for healthy eating, you learned about:

whole food
labeling of foods
controlling your portion sizes
Well Done!
Next Steps

Learning about the macro-nutrients needed in your anti aging healthy eating food plan leads to the next important nutritional step learning about the 3 micro-nutrients that optimize your health.
Anti Aging Home|Legal Disclaimer|Privacy Policy|Contact Us

Copyright © 2010-2013, Harwils Limited, All Rights Reserved