Anti Aging Face Finishing

Touches



Cover, Color, Set

!



Makeup is magical!
Applying the finishing touches to your face adds that anti aging "wow" factor that you are working to achieve.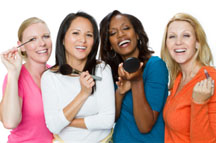 It is all about using:
clean, pure certified organic products

appropriate tools
flattering color selection
Whether you are selecting or applying your makeup, the objective is to create flawless, natural looking coverage.

Foundation

Deciding to apply or not apply foundation is a personal preference.
Foundation evens out the complexion and gives your skin a soft, matte finish with translucent coverage. It protects against pollution, UV rays and free radicals. Your coverage should look natural in any light. It keeps skin hydrated and protected throughout the day.
Foundation does provide a perfect base to begin finishing your face with color.

One of the concerns that women have expressed to me is that after a period of time, their foundation seems to pull the moisture from their skin accenting their wrinkles, particularly around the eyes and mouth.
This is a look you definitely want to avoid!
Top quality, pure foundation is not inclined to accent any imperfections, plus a little secret I will share later, normally remedies this problem.
What color of foundation should I choose?

Your foundation should match your skin tone. It is often difficult to choose a perfect match when you are looking at a computer screen.
Before your select a color that you believe to be correct, may I suggest that you choose a sample pack of foundation that offers the 3 available foundation colors.
How do I apply my foundation?

You may use a natural sponge, a make-up brush or your fingertips to apply your foundation. I believe you, like me, very likely have a favorite method that works for you. 
Just in case you would like to see how someone else apply's their finishing touches, I invite you to click on the Media Tab when you are looking at the available foundations.

Face Powder

Powder is your secret weapon!
Powder helps set makeup, and holds your makeup in place. It sets your blush, provides extended wear over lip color, makes powdered eye shadow go on more smoothly.
Experience the silky, lightweight, breathable coverage with mineral foundation powder. The Certified Organic's Mineral Foundation Powder comes in 4 shades

Use a large powder brush when dusting your whole face.
Certified Organic's Translucent powder sets your makeup with just a hint of iridescent color.
Blush

Blush adds just a bit of color, giving you a naturally healthy look. Every skin tone looks radiant with just a touch of color.

Certified Organic's Mineral Blush Powder comes in 3 colors.
Apply blush with a fluffy brush if you are using a powder. Apply and blend with fingertips if using a cream blush.
You may prefer a shimmer cream instead of blush powder.  You can apply it with your fingertips anywhere you wish to have a touch of color.
Certified Organic's Shimmer Cream comes in 2 colors.
Bronzer

Certified Organic's Bronzing Dust gives your skin a sun-kissed look.
Apply bronzer with a big, fluffy brush over a powdered face.
Focus on the areas where the sun naturally kisses you face--cheekbones, bridge of nose, and forehead.

Lip Color

Your face has basically three areas to emphasize. Your eyes, cheeks and lips. Your lip color acts as the balance to a well made up face.

To balance your face and not play up all three areas at once, you might consider one of the following:
light eye makeup color and light lip color
light eye makeup color and dark lip color
dramatic eye makeup and dark lip color
dramatic eye makeup and light lip color
Color selection is important. Eye and lip shades should be in the same tone.
Certified Organic's Lip Cremes are available in 6 shades.
Tools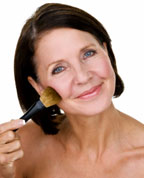 The tools you use when applying makeup are important.They often make the difference between a professional or not so professional look.
Your tools should include make up brushes, wedge-shaped sponges, natural sponges, cotton swabs, sharpeners, tweezers and scissors. You may also have additional preferences that you have found to be indispensable.
The following tools are very helpful.
Anti Aging Secret

Cream products work best over cream foundations.
Powder products work best over powder foundations.
If you put a cream product over a powder product, it is nearly impossible to blend the cream product.

Anti Aging Home|Legal Disclaimer|Privacy Policy|Contact Us

Copyright © 2010-2013, Harwils Limited, All Rights Reserved