Anti Aging Skin Care Treatments
Remove, Renew, Protect

!

You may find that following the basic skin care regime of cleansing, conditioning and moisturizing just does not complete the anti aging results you want to achieve.
In this session of the Anti Aging Guide you are going to learn about what, when and how to apply the appropriate anti aging skin care treatments to achieve the following results.

expose a glowing skin

firm, tone and refine your skin

sooth broken capillaries

purify, heal and calm blemishes, pimples and cuts on your face

rejuvenate and revitalize the complexion

Please read the following descriptions of anti aging skin care treatments that are available. Then decide on the ones that will benefit your particular skin type and condition.

Option 1- Exfoliate -- Anti Aging Skin Care Treatment
You learned earlier that your dead skin cells are constantly being replaced with new skin cells.
However, as you age, the cell turnover slows down considerably and the dead skin cells build up unevenly on the skin's surface. The build up of dead skin cells can cause your skin to look rough and lack-luster. You can often see and feel the uneven texture.
Exfoliating removes those dead, dehydrated cells and exposes a glowing skin.
This special treatment should be done a few times a week for normal/combination skin.
Do not exfoliate dry/mature skin or blemished skin.
When do I exfoliate my skin?

Exfoliate after you have:
cleansed and lightly dried your normal/combination skin.

How do I exfoliate my skin?

Squeeze a small amount of exfoliant onto your damp fingertips.
Gently massage the exfoliant on your damp face skin using small circular, upward motions
When you have thoroughly massaged your face with exfoliant --splash your face with plenty of warm water to rinse it off.
Dry your face with a warm soft cloth.
After you exfoliate, apply your skin conditioner and moisturizer.

Option 2 - Mineral Mask -- Anti Aging Skin Care Treatment
Regular cleansing removes surface impurities, however, clay-based masks will actually draw toxins from within the skin so they can be washed away.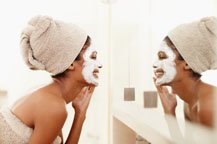 Applying a Clay-based Mask firms, tones and refines the skin, promoting a smooth, supple, and clear complexion.

Clay re-mineralizes and re-balances the skin.
When do I use a Mineral Mask?

Each mask is especially created for your specific skin type.
Apply your specific anti aging mask treatment:
Once a week for sensitive and dry/mature skin
Daily for blemished/oily/problem skin (for 1 week)
--then every second day (for 1 week)
--then twice weekly until congestion and blemishes have cleared
Once a week for sensitive and dry/mature skin.

How do I apply a Mineral Mask?
Using the jar lid as a bowl, make a smooth paste by mixing 1 teaspoon of purified water with 1 heaped tsp of mask powder.
Stir to form a smooth paste and smooth a generous amount of mask onto the face and neck. Lie down with your feet up
and relax for 10-15 minutes, until mask is almost dry.
Rinse your face with plenty of tepid water.
Pat face dry with a soft cloth
Masks must be followed by a Skin Conditioner and Moisturizer to prevent dehydration.

Option 3 - Treatment Gels -- Anti Aging Skin Care Treatment
Sensitive skin that is red with broken capillaries, can be soothed with anti aging treatment gels. Reduce a red, blotchy appearance with this gel. It is a strengthening treatment for sensitive skin with ultra-soothing organic plant extracts.

Even when you are Forty Plus you may experience blemishes, pimples or cuts on your face. Heal those outbreaks with a gel that is a potent and powerful blend of purifying, healing and calming organic herbs and flowers.

The intense concentrations of botanical extracts is very helpful for both these special skin needs.

Both gels follow identical application routines.

When do I apply a Treatment Gel?

Cleanse your face
Apply Conditioner to the skin on your face
Apply the appropriate Treatment Gel to your Face
Apply Treatment Gel to your face in the morning and in the evening after cleansing and conditioning; before moisturizing.
How do I apply a Treatment Gel?

Apply 1 or 2 pumps of the Treatment Gel to your fingertip
Gently pat Treatment Gel onto the affected areas of your skin

Let the Treatment Gel dry
Apply your Moisturizer
Option 4 - Serums -- Anti Aging Skin Care Treatment
Protect your skin from climatic conditions!

Extreme heat, cold or wind stresses your skin. Have you noticed when you look in the mirror after exposure to these climatic conditions, your skin looks drawn, tight and aged?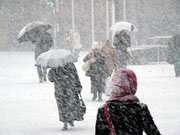 Your skin does not like extreme weather. So how can you help?

Certified Organic Rejuvenessence Facial Serum provides much needed protection against the elements. Serums are developed to lock in moisture and intensively nourish the skin.
Firm, Tone and Smooth the skin around the eyes and neck!
Certified Organic Firming Eye & Neck Serum provides added nutrients into the deeper layers of your skin that a regular moisturizer is not able to reach.
Although a moisturizer holds moisture and hydration to your skin, it will not penetrate the skin as deeply as a serum.
When do I apply Serum?

Cleanse your face using the cleanser appropriate for your skin type.
Condition your face using the conditioner appropriate for your skin type.
Moisturize your face using the moisturizer appropriate for your skin type.
Apply the appropriate serum after you moisturize in the morning and evening. It will lock in moisture and intensively nourish your skin.

How do I apply my Serum?

Pump a few drops of Serum into the palm of your hand.
Cup your hand to warm the Serum to body temperature.
Gently pat and press onto your face, throat and decollete.
Anti Aging Secret

Certified Organic Ambrosia Essence restores ageless beauty, rejuvenates the complexion and renews the youth in your skin. It is an ultra rejuvenation treatment.

Prior to applying your moisturizer, place a drop of Certified Organic Ambrosia Essence in the palm of your hand, and with your ring finger gently massage into the dry, wrinkly areas--usually around your
eyes and mouth, but please don't stop there if you feel other areas would benefit from this in-depth treatment.

Use Certified Ambrosia Essence daily as a super-intense nourishing booster prior to moisturizing.
Use nightly after cleansing and conditioning to revive and restore your complexion.
Ambrosia Essence works hard to restore your complexion and promote cellular renewal.

Results
Your great skin is the result of three factors:
Good Genes
Healthy Lifestyle

Great Skin Care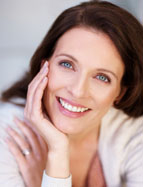 Your genes are responsible for giving you specific characteristics from your parents.
Receiving the gift of great skin is a blessing, however, everyone should be able to have great skin.

Take the time to understand what the condition of your skin is telling you. Your skin is a barometer to your general health. If all is not good on the inside, it will show on the outside--on your skin!
Status--Where you are in the Program
You now know about the benefits of providing your skin with specific anti aging skin care treatments.
In addition to your basic skin care program of cleansing, conditioning and moisturizing you have learned the what, when and how to apply those special treatment products that supplement your specific skin's needs.

Next Steps

It is now time to move on to applying professional looking finishing touches to your well prepared skin.
Now is the time to learn how to apply:
Anti Aging Home|Legal Disclaimer|Privacy Policy|Contact Us

Copyright © 2010-2013, Harwils Limited, All Rights Reserved