Anti Aging Foot Care
Out of Sight, Out of Mind?
Your feet are the most forgiving parts of your body!
By the time you have reached the age of forty plus your feet have carried you thousands of miles. Would it surprise you to know that over this same time period, the distance your feet have traveled can be compared to two or three times the distance around our plant?
Anti aging foot care can help you reduce the stress and strain of walking, running and playing.

Your feet are not only the most forgiving parts of your body; they are sometimes the most neglected.
Only by resorting to pain, do they get your attention!
Although not nearly as visible, your feet like your hands require anti aging care and protection. They contribute to the quality of your life, your independence, confidence and well being.

Healthy feet reward you with mobility.
The objectives when learning to provide anti aging care to your feet are:
select shoes that fit your feet and support your body

address foot pain immediately

protect from injury and infection

Why do my feet age?

Our feet age on 3 fronts.
Shoes that fit poorly

Neglect
Age-related body changes
The first front and the most immediate aging effects are caused by ill fitting shoes.
Good fitting shoes support and allow your body weight to be distributed evenly over your whole foot. Your shoes should allow the bones and muscles of your feet to move and breathe freely.
Shoes that fit poorly allow the weight to be concentrated mainly on the toe joints. This can cause a proliferation of problems such as calluses, bunions and deformities to your feet.
Over time ill-fitting shoes will affect your whole body.
tense facial expression
irritability
aching back
poor posture
loss of mobility

Whether the occasion calls for strappy high heels, dress shoes or flip flops -- pay attention to the voice of your feet and submit them to nothing that is unprotected and unsupported over extended periods of time.

Bare those feet! Every chance you get take off your shoes and socks.
Let your feet breathe and move without restriction

Always wear the appropriate shoe for whatever activity you are doing.

The second front is the medium term effect of neglect.

Your feet, like your hands tell much about your overall health.

Very often your feet are in need of repair and rejuvenation. Our feet carry us wherever we need or want to go for a very long time, hopefully our entire lives. That feat alone makes them most worthy of regular, attentive care.

Your feet should not hurt you. If they are hurting they are telling you that something is wrong. If you are unable to determine the reason, discuss the symptoms with your health care provider,
Correct any problem with your feet before it cannot be reversed. Bunions, for example, are difficult to reverse.

Remember your feet, legs and hips all work together to support you.

Support your feet with regular anti aging foot care!

The third front is the effect of time
Gradually over time as your body ages, it begins to lose muscle mass, bone mass, and flexibility. Since your foot is part of your body, it will also experience these losses.

When you team the aging process with neglect and abuse the results can be quite alarming.
Thankfully, the feet are very forgiving and with time and care many foot problems can be relieved.

How can I prevent this from happening?

Anti aging is a process that when applied, benefits the whole body including your feet. It is never too late to start preventative anti aging foot care.

The results are well worth the effort!

Protecting your feet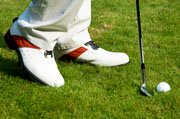 You definitely want to protect your feet from injury, infection and disease.

Injury
Whether your are walking, running or playing a sport wearing the correct foot gear protects your feet from injury. Good shoes, that are built for that particular activity, provide the support and cushioning your feet need to remain pain free.

You may not need construction boots during your day, however, do pay particular attention when walking in areas that could be harmful to your feet and ankles such as:
rough, uneven ground
cold, harsh weather
crowded sidewalks
long, uncut grass

Infections

Prevention is the best way to protect your feet from infections and disease.

Like your manicure, do be careful and take your own tools when going to a professional pedicure. Nail fungus infections are highly contagious and can be very difficult to treat.

Unprotected feet in public places leave you vulnerable to some nasty and painful conditions.
Athletes foot - is a fungal infection
Plantar warts - is a virus

Protect your feet from infection in public areas. Wear shower shoes at community pools, showers and locker rooms.

Status - Where you are in the program
You now know the 3 main fronts that contribute to the aging of your feet. Also you know how to begin to anti age your feet-- by protecting from neglect, abuse and injury.

Wear appropriate foot gear.

Ensure your shoes fit your feet.
Seek medical advice during the initial stages of discomfort.

Next Steps

Now you are ready to learn how to continue providing anti aging care for your feet so that they can to do their job; keeping you mobile for a very long time.
Click here to continue on your journey of learning about anti aging foot care.
bathe and soothe your feet

give yourself a pedicure
pamper your feet regularly

Anti Aging Home|Legal Disclaimer|Privacy Policy|Contact Us

Copyright © 2010-2013, Harwils Limited, All Rights Reserved